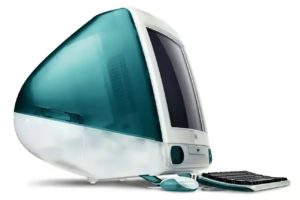 Twenty-five years ago this month, Apple introduced the iMac and, with it, changed my mother's life for her last couple of years. (She lived with us for five years until she passed in 2000.) We bought her a Bondi Blue iMac.
With it, she discovered Amazon. She was a voracious reader and buyer of books. Packages with obscure books showed up at our door.
Google gave her new worlds of  news from folks such as the then-feisty Ariana Huffington as well as websites on psychology, sociology, history, art, and, of course, books.
She planned and paid for her own trip to Bermuda because she could.
Yes, the operating system on that early iMac was unsteady, requiring frequent attention from the in-house IT support. Mac OS X wouldn't be available until after her death. Nevertheless, it was neither too soon nor too late to hop on that rickety raft of a computer, pretty and bold like her, to find new worlds.
Update; in the past month, there have been several articles about the 25th anniversary of the iMac.
From August 15: